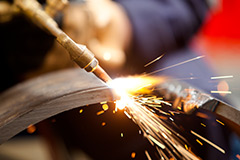 FLAME CUTTING - WITH ACETYLENE
The combination of Acetylene with Oxygen produces a flame with higher temperature and heat concentration, which enables faster cuts and greater finishing.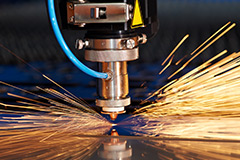 CUTTING WITH COMBUSTIBLE GASES - OXY-CUTTING
Oxy cutting allows good results at a low cost on the cutting of different thicknesses sheets. Oxy cutting is the most used on carbon steel and low alloy, ensures a good drilling, speed and good cutting quality, and also allows to produce cuts in V, Y and K.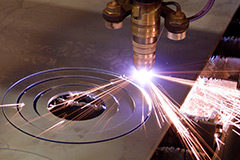 LASER CUTTING
Laser cutting is a quick and silent process, ideal for thin sheet metal, wood, plastic, glass and ceramics, with a minimum of waste and without distortion. By using laser, the cutting is more accurate. The laser light may be directed between 50mm and 0.2mm, the laser radiation is of high energy, having a very high power density, allowing to achieve a high cutting quality and perfect metallurgical surfaces.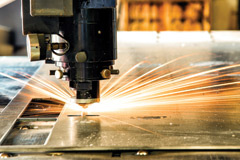 Plasma Cutting
The plasma cutting in arc produces high quality cuttings, being extremely productive in materials as stainless steel, aluminum, copper, carbon steels and low alloy. The advantages of plasma are: higher speed when cutting thin metal sheets, compared to Oxygen allows to cut sheets thicknesses from 0.8mm to 150mm, achieving perfect surfaces for welding, smooth edging surface. Has medium heat inlet, excellent cutting speed.
THERMAL PROCESSES (FLAME HEATING)
Processes where the heat is transferred to the base metal by the means of a flame, without casting the metal or remove any material. Flame straightening is used to return parts the original form that were deformed, by welding effect. The flame tempering is used to cause a superficial hardening on a part. In flame forming, the part to be shaped is heated at a certain point and an external mechanical force is applied to achieve the desired shape.